Quests and Rewards – There is much to do in Zoo 2: Animal Park
|
Your life as a Zoo 2: Animal Park zoo director never gets boring. Right from the beginning you have a number of tasks to fulfill. Starting of with taking care of your animals or the maintenance of your zoo, you will meet many friends and other people throughout the game, who have the one or other special task for you. All these tasks ("quests") will be generously rewarded with experience points, coins and diamonds, animals, chests and more.
Also you will get new tasks once you reach certain milestones – like reaching a new level, hosting a certain number of animals and suchlike.
With more than 100 levels and more than a dozen different characters, you will never go bored when playing Zoo 2: Animal Park. There is always a lot to do.
upjers tip: On the left you find a list of tasks and quests showing you which tasks are still open and which you have already started. Tap on the icon to see more details about the open task.
New Quests at Level-up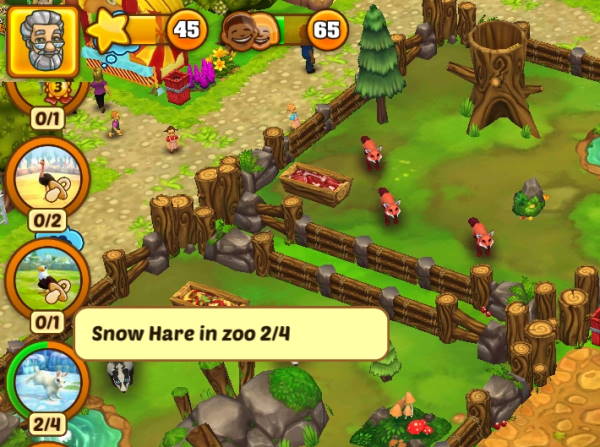 Once you enter your zoo for the very first time, you already have a number of quests ahead of you. These tutorial quests will lead you through your first steps as a zoo director. These teach you how to place and populate your enclosures, how to entertain your animals and breed them. Additionally the town's mayor will give you some tasks to take your zoo from a simple petting zoo to an internationally renowned wildlife conservation zoo.
Some quests will be unlocked when you reach a new player-level. At level three, for example, your task will be to place a grassland enclosure and a baby panda in your zoo. Your reward will be a number of coins and experience points plus your first sign-post as a bonus.
The higher you level, the more ambitious the tasks and the more copious the rewards. At level 50 your tasks include building an animal carousel. For that you will receive a generous amount of experience points, many many coins and an elephant statue that will attract a lot of visitors to your zoo.
Story Quests – tasks given by your zoo's friends
Continuing your zoo's background story, several of your friends and visitors have certain requests of their own. Some of them would like you to add certain species to your zoo, some have special tasks that will improve your zoo.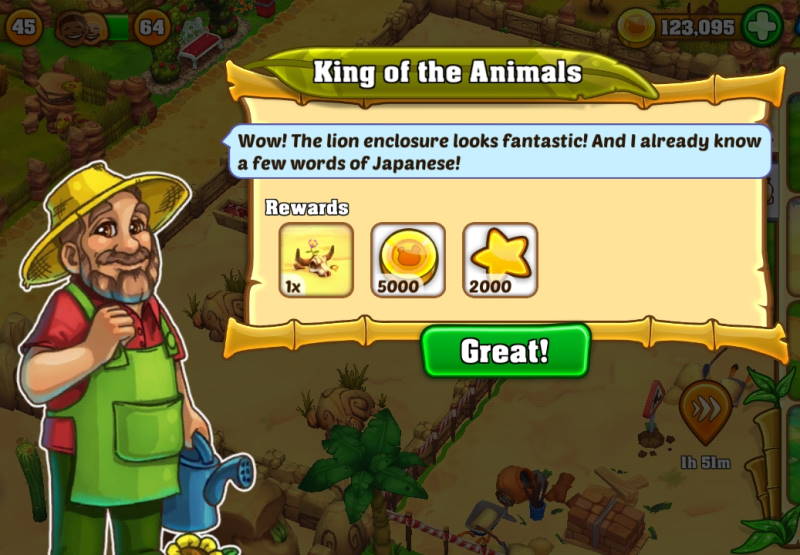 There is veterinarian Dr. Byrd. Her concern for your animals' well-being is adorable. At one point she will approach you with a request to extend certain enclosures and add watering holes to accommodate your animals' needs. As compensation for your efforts you will receive – among other things – a new Savannah enclosure.
A different type of reward is given by Stella, the photographer. At level 20 she will ask you to build a forest enclosure with a matching trough and watering hole to host a moose. As soon as you have accomplished that task, three employees – a gardener, worker and zookeeper – will be volunteering to work for you for free.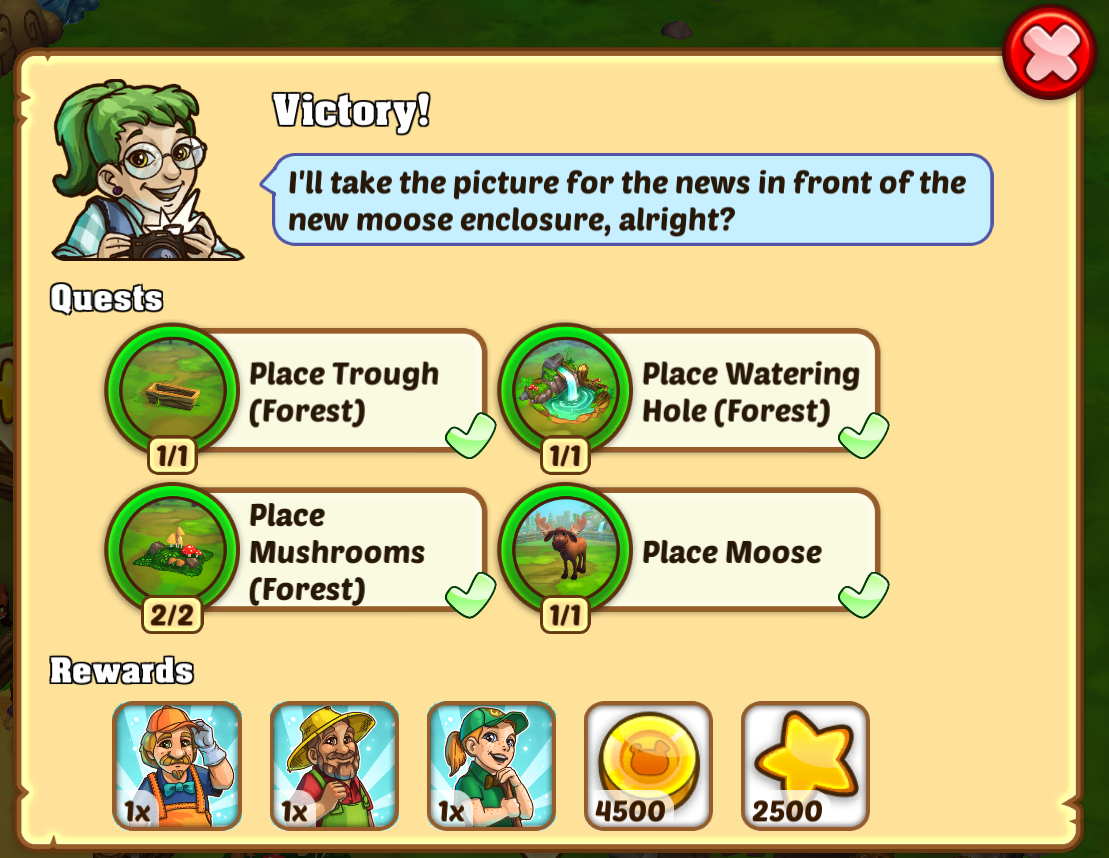 upjers tip: Many tasks – especially the ones given at level-up – you can fulfill almost "automatically" while playing the game. Some tasks, however, should be done step by step as they are building on each other – particularly story quests connected to level-ups.
The Mayor's quests and your zoo's level
On top of your "nomal" tasks, your city's mayor has a couple of requests to make. He wants your zoo to be an exemplary model zoo, attracting many visitors and tourists to your town. All you have to do is to ensure that your diverse variety of animals is treated well and that all your zoo's visitors are happy.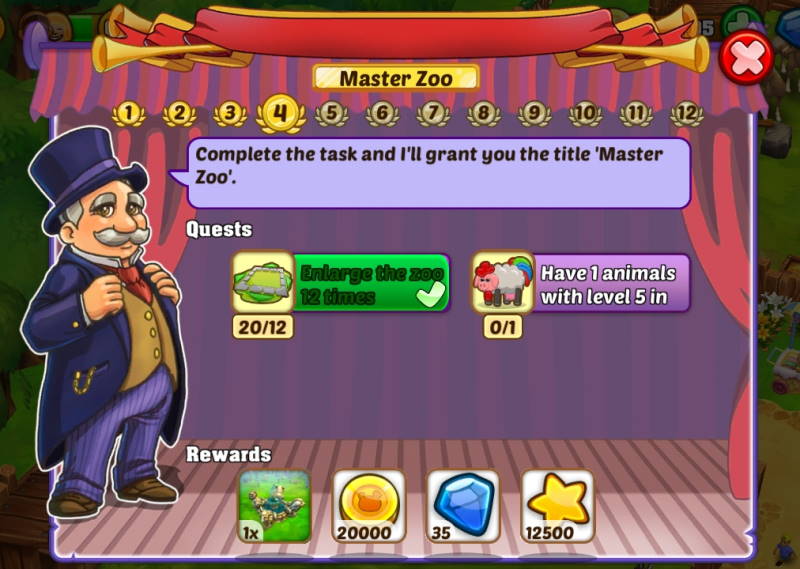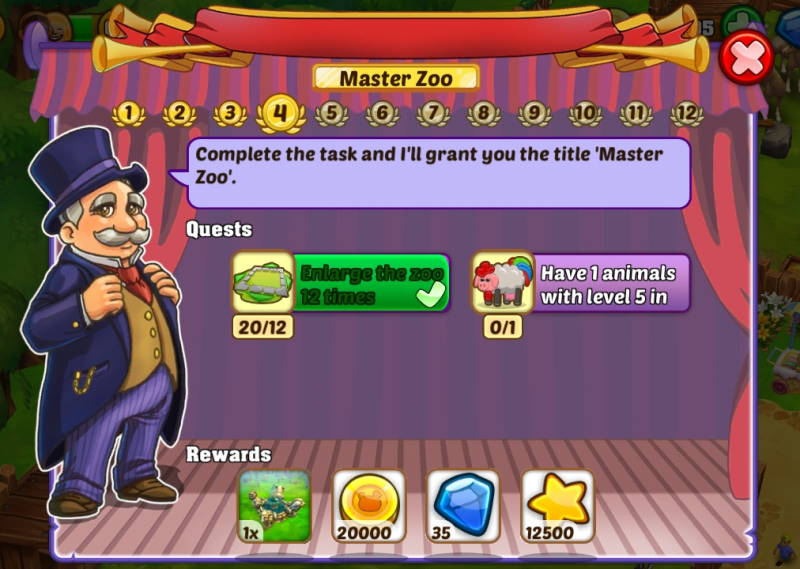 Initially your tasks are rather simple like breeding six different species. For that your zoo will become know as "wildlife conservation zoo". Later the tasks get more complex – like having more than 80 different types of animals in your zoo. In return you can get several hundred-thousand experience points and coins, a large batch of diamonds and an incredible amount of tickets to complete many of your card sets.
upjers tip: Tap on the mayor-icon to see the overview window. Here you can see the steps you need to take and which rewards are waiting for you.