Kapi Hospital Tower 2 – First Steps
|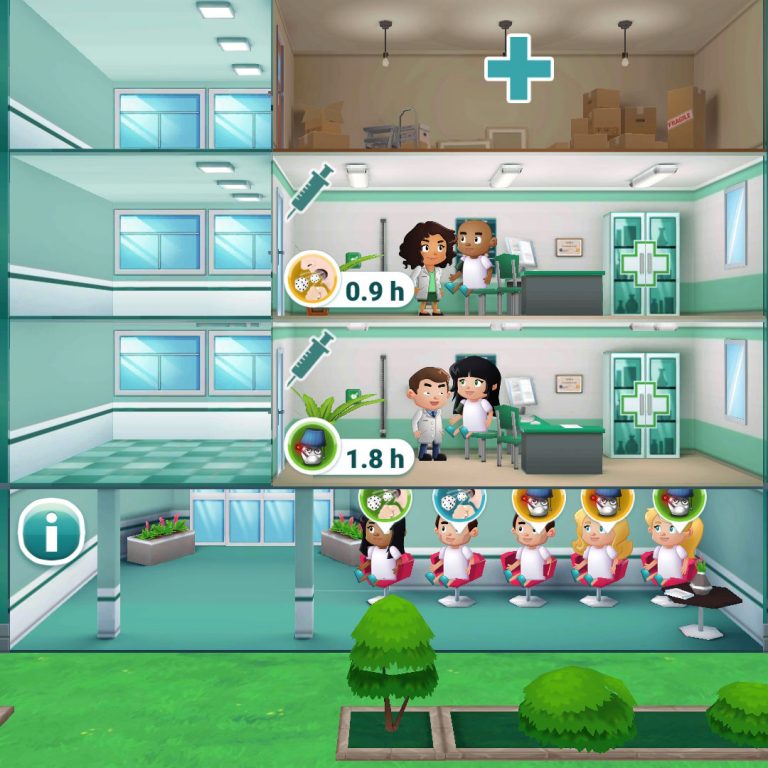 The lobby on the ground floor of your hospital is the waiting room for patients suffering from dicey breath, lamp fever, and other maladies. You can tell what ails then by the pin over their heads.
The different pin colors show you how much a patient is willing to fork over for their treatment. The scale goes from yellow over green, turquoise, and blue all the way to pink.
Pink is the highest tier – that means these patients will pay most to be cured of their diseases.
Here are the first couple of floors in Kapi Hospital Tower 2 and the rooms they house:
1st Floor (ground): Waiting Room
2nd Floor: General Medical Practice treatment room
3rd Floor: General Medical Practice treatment room
4th Floor: Break room for exhausted doctors (recognizable by the red pin with the coffee cup)
5th Floor: Quackery, in which you can make medicine
6th Floor: Orthopedics treatment room
7th Floor: Accessories Factory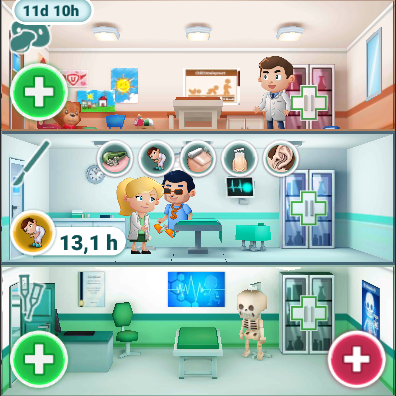 A new treatment room needs a doctor to staff it.
Tap on the red button with the + sign in the bottom right corner of a room to pick a suitable medic.
The green button on the lower left side of the room opens a list of waiting patients.
Patients often have varying treatment times and will offer more or less rewards for being successfully treated.

upjers Tip: Always treat the most lucrative patients first, even if it takes a little longer – they'll make the registers ring and give you a large amount of HospiDollars you can reinvest.
Healed patients will pay with: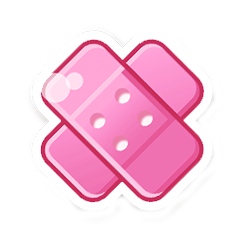 Bandaids – needed for leveling up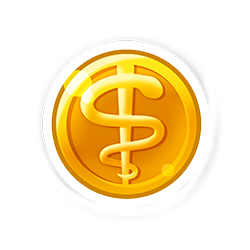 HospiDollars – in-game currency for new investments
Other currencies in Kapi Hospital Tower 2 include: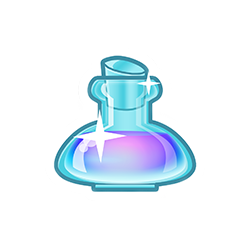 Elixirs – flasks of purple medicine are your premium currency. You can use them to speed up construction, heal patients instantly, or buy special items in the game.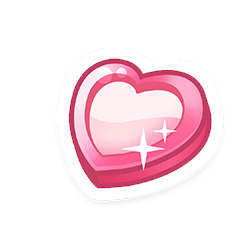 Hearts – a reward for helping out your friends. These allow you to buy medicine and decorations for your hospital floors.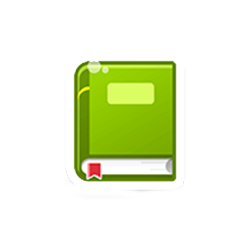 Books – neeeded for training doctors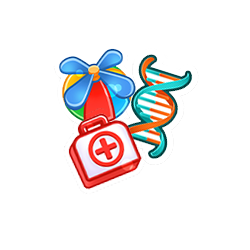 Research Currencies – medicine used to research new diseases. You can earn these by completing emergency operations with the ambulance and the helicopter, and through alien invasions.
VIP PATIENTS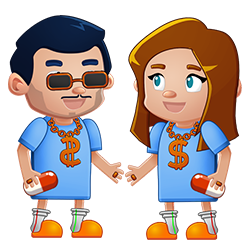 VIP patients are particularly fussy. They won't wait in the waiting room with the other patients, preferring instead to pace around in the lobby for a limited time. Their signature outfit – a blue shirt with an oversized gold chain – is another surefire way to recognize them.
What these entitled patients lack in patience they make up for in cash, so be sure to check which treatment room they need and make sure its available as soon as possible. Be sure to assign a room quickly to make sure they don't leave.
You might even have to put healing another patient on the fast track to make sure you'll have the room for the VIP.
ACCELERATING TREATMENTS
Activity pins help you complete treatments faster. All you need to do is tap on them as soon as they appear.
Blueish-gray pins with a thermometer, a glass of water, candy, and such decrease the remaining treatment time by 10 minutes.

Doctors in the break room get similar pins: They get blueish-gray pins with music notes, cellphones or apples, which allow you to reduce the time they need to rest.
Pink star pins with a "P" accelerate a patient's treatment for free. This power pin reduces the time to cure by a whopping 20% of the original treatment time, making them an effective way to speed things up.
Every 10th power pin you tap, you'll also get a 2 star medication for the room the pin was tapped in.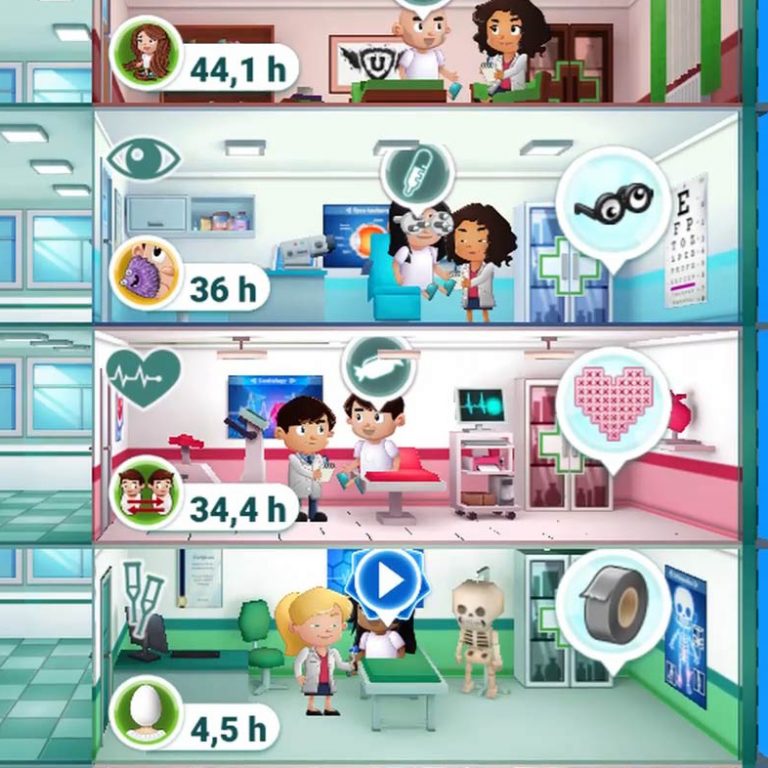 Blue star pins with a "play" symbol will offer you an ad. If you watch it, 30 minutes will be subtracted from the remaining treatment time.
Medications from the Quackery also speed up treatments. There are four tiers of medication, denoted by stars: Medication without a star takes 30 minutes off treatment time, one star medication reduces the time by an hour, two star medication takes off four hours, and three star medication heals a patient instantly.
The same applies to medical accessories from the Accessories Factory .
Three star medication and accessories can only be purchased for premium currency (Elixirs).
upjers tip: Always be sure to craft a variety of different medications with different star tiers in the Quackery and Accessories Factory. If a patient only has half an hour of treatment left, you don't want to waste expensive medication that could reduce treatment by a whole hour.
Now you should be well equipped with tips and tricks for your first steps in Kapi Hospital Tower 2 – so don't delay and get to work building your very own hospital!