Therapy Animals help you out in Kapi Hospital Tower 2
|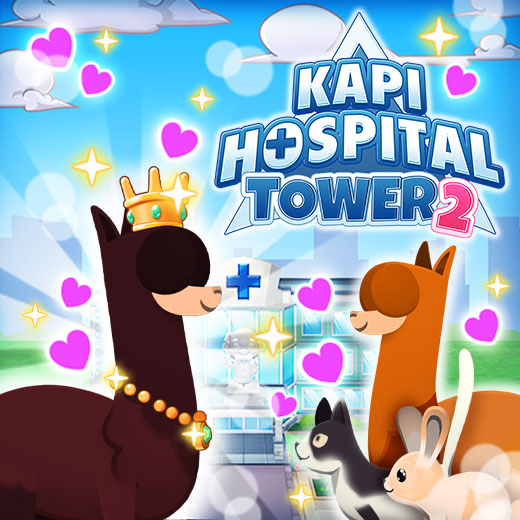 The healing effect that animals have on humans is commonly known. Now Kapi Hospital Tower 2 also makes use of this great effect. Therapy animals walk across the floors and treatment rooms and that way they support your virtual hospital.
They give you useful presents from time to time. Such gifts can be elixirs, money, wellness points, or medicine. You can collect these gifts by tapping on the pin above the animal.
These are the therapy animals in Kapi Hospital Tower 2:
Attention: The cool down period until the next gift will be available from the individual therapy animal will slightly increase after each gift collecting process.
How do I get a therapy animal?
You will receive a therapy animal for free with a purchase of at least 100 elixirs from the shop. There you can also see which animal currently is available as bonus gift. In general: You will receive a rabbit or a cat for purchases of at least 100 elixirs – for purchases of at least 200 elixirs you will receive a llama or a dog.
Additionally the therapy animals exist in different fur colors. So it is worth the effort to check out the shop to see which animal is currently available.
Keeping the overview
Furthermore llama, dog, cat, and rabbit give different amounts of individual gift types. Rabbits give more money, cats more experience points, dogs more medicine, and llamas more wellness points.
If your hospital is already rather big and you do not want to browse through all floors searching for therapy animals to click on their pins, you can build a therapy room. They will be in that room for a substantial amount of the time and you will have less trouble finding them. Of course they will still visit your patients in the treatment rooms from time to time.
After you have set up a therapy room, a button that provides an overview of the Kapi Hospital Tower 2 therapy animals that you already have will appear. Have fun!
You want to read more articles about the gaming app Kapi Hospital Tower 2? Here is a small selection of other topics about the mobile game:
Kapi Hospital Tower 2: What's New?