Autumnal Adventures in upjers Games
|
A cool, crisp breeze is picking up, and the leaves are changing color. We love autumn, and want to celebrate it in its full glory, so we've launched fall events in several games of ours.
Come check out delightful Fall decorations in My Little Farmies, My Free Zoo and My Sunny Resort!
As always, there are also some fantastic prizes to earn by collecting points with the event items.
Mighty oaks and mossy rocks – bring Fall to My Free Farm with a large selection of autumnal decorations and earn Chestnuts towards a new wonder of the world: the Stag Sculpture. This imposing decoration even grants random products!
In My
Free Zoo, you'll be able to earn yourselves last year's prize animal – the Turkey – as well as a brand-new animal species: the Kinkajou! The Kinkajou is a delightful little mammal native to South- and Central America. It looks a bit like a monkey, but is more closely related to the raccoon and the coati. It has a prehensile tail that helps it climb around tree tops and really, really, loves fruit. Fruit makes up 90% of its diet, even though it is technically classified as a carnivore. If you collect enough Chestnuts, you will even be able to get two of these cute critters, allowing you to breed adorable baby Kinkajous!
My Sunny Resort has plenty of decorations to bring an autumn feel to your resorts. Not only can you make your very own Fa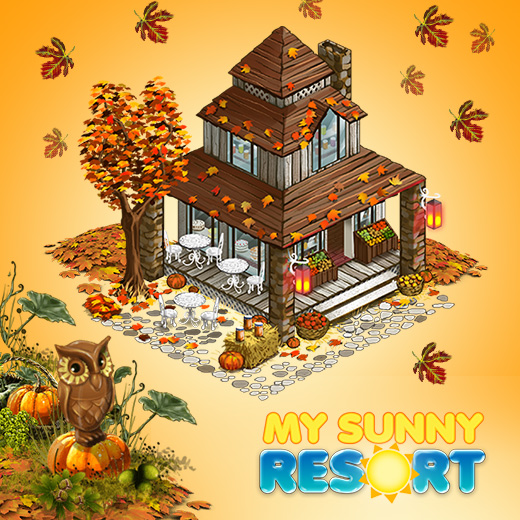 ll forest full of common and exotic plants and trees, you can even earn yourselves some very special decorations, like the Kite-Flying Sophie with her adorable butterfly kite and a whole new attraction: the Corner Café. The Corner Café is a cozy little restaurant that serves Fall favorites such as pumpkin pie, apple cider and maple syrup!
So stop on by and check out the amazing decorations.