Wauies – Tips for Beginners, Part 2: The Nursery
|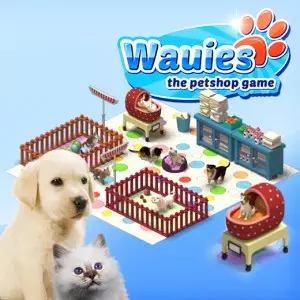 To breed puppies and kittens in your store, you need a Nursery.
You can buy this special department in Wauies – The Pet Shop Game in the third category of your in-game shop: "Store Equipment & Departments". You'll find the Nursery in the last tab for 10,000 Pet Cash.
In the Nursery, you'll see a number of breeding slots. You always need two adult animals of the same breed in the same pen to start breeding.
Click on the first breeding slot and begin breeding an animal of your choice. Which dogs and cats are available can be seen in the following window – the highlighted ones are available and ready for breeding.
The breeding slot that you chose will be occupied for a certain period of time. You can increase your chances of a successful breeding by building a pool in the respective animals' pen – that gives a bonus of 5%. A hideout will even give a bonus of 10%!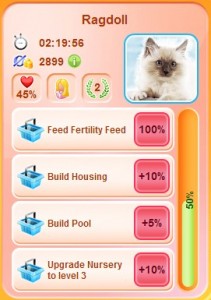 Your Nursery can also be upgraded, allowing you to increase the number of breeding slots, and even the breeding chance at certain points. If you want to guarantee successful breeding, you can buy Fertility Feed for a particular breeding, which raises the breeding chance to 100%!
You can see the breeding chance when you click on the respective breeding slot in the Nursery. On the right side, you'll see a green bar that shows you your current breeding success chance for the breeding. The higher this bar is, the higher your chance of a successful breeding and lots of adorable animal offspring.
Notes: There are a total of 12 breeding slots in the nursery, split up in four slots per row. The fourth slot at the end of each row gives an additional 5% for all breedings in the Nursery – that means you can get up to 15% if you unlock all of the slots!
Tip: Since pools and hideouts increase your breeding chances, it's a good idea to make sure that pens are large enough to accommodate them – in most cases, it will be cheaper to buy a medium or large pen outright, rather than expanding and existing one.