How do I give away animals in Wauies – The Pet Shop Game?
|
In Wauies – The Pet Shop Game you will sometimes encounter quests that ask you to give away animals.
For instance, you may be asked to donate animals to a charity, or just give animals to customers. This isn't terribly difficult, and in this blog post, we'll explain how to go about doing that.
Step #1
First things first, you'll need to move the animals you want to give away to your inventory. To do that, just click on the animal in its pen. The ring menu will open, and you should see a little icon with a cardboard box.
Just click on it to remove the animal from its pen.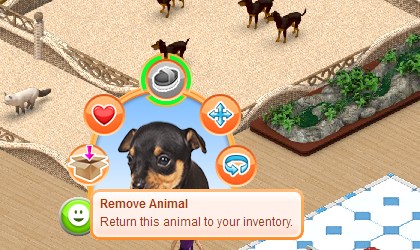 Step #2
Now the animal will be in your inventory.
It will also appear in the card bar at the bottom of the screen. You can either click on the "i" here, or use the box symbol to the left to get to your inventory.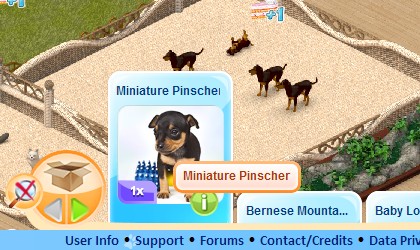 Step #3
Once you open your inventory, you'll see all the items you own, but don't currently have placed in your shop – animals, carpets, decorations, etc.
You can also sort them by categories – to do that, just use the dropdown menu at the top.
If you select one of the cards, it will turn blue, and you'll see a larger version of the card and some more details and options on the right.
There will also be two smaller green buttons – "Sell or Give Away Animal" and "Put Animal in Store."
Of course, you'll want to use the left button.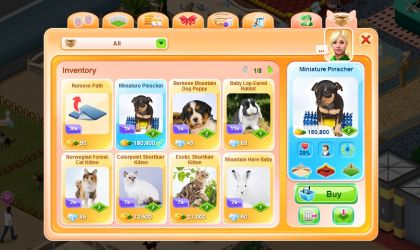 Step #4
Now you will see a little window, where you will be able to choose if you want to sell or give away.
Tick the box next to "Give Away" and choose how many you want to give away with the slider below. Once you're happy with your selection, just hit the "Okay" button.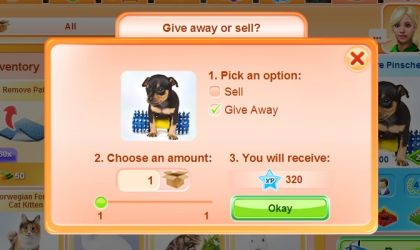 … and that's how you give away animals in Wauies – The Pet Shop Game!