How can I get Premium Currency for Upjers Games without spending money? – Part 2
|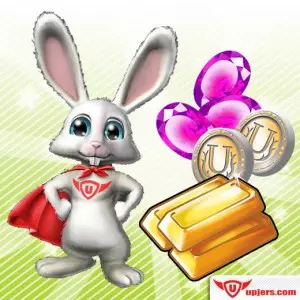 The upjers Portal has several options for obtaining premium currency for our games without spending money, so that anyone can enjoy everything our games have to offer.
In the second installment of this three-part blog series, we'll be taking a look at earning premium currency by watching advertisements. You'll find links to the other parts here:
Earning premium currency by watching advertisements
2. Earning Premium Currency by Watching Advertisements
Depending on your region, we may have partners that make advertisements available for users to watch. Watching these spots will allow you to earn premium currency for an upjers game. This is how it works:
When you're logged into your game, you can either click on the Bank in the menu bar, or click on the icon for the game's premium currency. These are Diamonds, Gems, Crystals, Gold Bars, or similar. There will be a little pop-up with an option to go to the respective shop, so for example the "Diamond Shop" in My Free Zoo (or the "Shell Shop" in My Sunny Resort, etc.), which will take you to the upjers payment page in a new window. Here, you will see three tabs: "Buy Diamonds," "Earn Diamonds" and "Advertisement."
If you select the "Advertisement" tab, you'll be able to click on a triangular play button to begin playing a video (if there are videos currently available for your region). Every 10 videos, you'll earn one unit of premium currency (so a Diamond, Shell, Gold Bar, etc.) for your game.
Note: Our partners only provide a limited number of advertisements, so you might not be able to watch 10 advertisements in one setting. You might need to come back and try later – don't worry, the videos that you have already watched will still be counted! Try to avoid watching videos at peak hours.