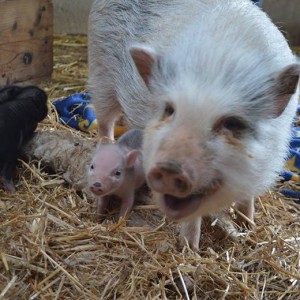 What a huge surprise for our colleague, Bernd. Just as he was preparing to leave, his wife called and told him they little ones – but not of the human variety!
Back at home, five little piglets were nestled contently with their mother, in the sty.
It almost sounds like a miracle. Because Bernd and his wife had purchased two female miniature pigs from their previous owner.
And both of the adult pigs are indeed females, but one of them was already pregnant when they came to their new home.
After a brief moment of shock, the joy was great – after all, those fuzzy little button-nosed rascals are quite irresistible.
But five little piglets are quite a lot of responsibility, and there's quite a difference between having two and having seven!
The five little piggies don't have names yet, but they've already earned a spot in the hearts of the other upjers employees as well.
Of course we'll keep you posted with updates about the miniature piglets!