How can I get Premium Currency for Upjers Games without spending money? – Part 3
|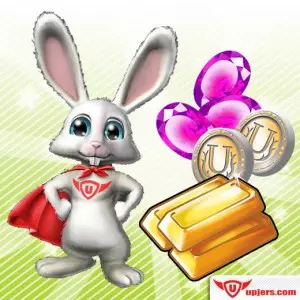 The upjers Portal has several options for obtaining premium currency for our games without spending money, so that anyone can enjoy everything our games have to offer.
In the third installment of this three-part blog series, we'll be taking a look at earning premium currency by recruiting friends to play with you. You'll find links to the other parts here:
Recruiting friends and earning premium currency as a reward
3.Recruit Friends and Receive Premium Currency
Playing upjers games with friends and acquaintances is twice as much fun! You can visit each other, trade cards, send each other small gifts and share a special gaming experience. The icing on the cake is that you can secure yourself a reward for recruiting friends in many of our games.
You can see if a game has this kind of referral bonus by checking the in-game friendship menu for a little gift symbol, or by looking for a link such as "Invite Friends and Get a Gift" below the playing field.
You'll receive a reward for every friend you invite once they fulfill certain requirements. Usually, this means that your friend needs to reach a certain level before you'll be granted any premium currency. For example, in My Sunny Resort, you'll receive 10 Shells when your friend reaches level 20.
To invite a friend to the game, you'll need their e-mail address. You can click on the link or the gift in the friendship menu and enter their e-mail address there. Your friend will automatically receive an invitation from you via e-mail.
If your friend accepts, you can play together and even add each other as friends or neighbors in the game, so that you can visit and help each other. And once your friend reaches the required level, you'll receive your premium reward.
Important note: So that we can see that you invited your friend, your friend MUST register via the link in the e-mail. Otherwise the gift won't be credited.
Beware: You may only invite people you are relatively well acquainted with, and where you can assume that they would be interested in playing the game with you. Using random e-mail addresses that belong to complete strangers or businesses is strictly prohibited. And keep in mind that the recipients of your e-mails will see your e-mail addresses as well.