My Free Farm 2 – The Best Tips for the upjers Farm App!
|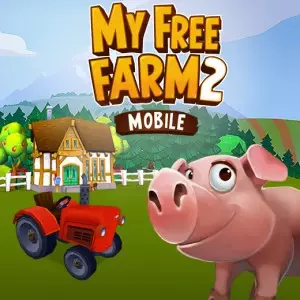 It's always worth stopping by your very own farm in My Free Farm 2. Our four little tips will make the app twice as much fun and help you get ahead faster!
Neighbors are eating you out of house and home? It doesn't have to be that way!
Your neighbors will continuously stop by with new requests and quests. But that doesn't mean you actually have to complete all of them. Just as you wouldn't give your real neighbors eggs, milk and sugar every day, your in-game neighbors can go elsewhere with their requests too.
Always take a look to see what your neighbors are offering as a reward for a new quest. If you don't need the reward, you can simply send them away again. New neighbors with other wishes will keep coming from time to time.
Note: You can't decline the first few neighbors in the game – their quests help familiarize you with some of the game's basic features. Later on, however, you can send away neighbors with the "Send Away" button.
Everything is easier without friends? Fat chance!
Finding friends always seems like a lot of hard work. After all, you need to know someone else who plays My Free Farm 2, or try to find random friends. But once you've added one, two, or a couple of friends, they will help your farm get ahead!
You will receive friendship hearts both for helping and accepting help from your friends. To help your friends, you can visit their farms and catch pesky little moles. Each visit will grant you half a star. Once you have collected at least 4 full hearts, you'll be able to redeem them for friendship rewards. Just click on the three cards with the ribbon in the top right corner to have a look.
Friendship rewards can include Coins and Diamonds, tools, products and more!
Your Silo is always full? Better planning can help!
The space in your silo is limited. It's a good idea not to keep producing things haphazardly in all of your buildings all the time if you don't currently need them. Plant the plants you need, and allow your buildings a little breather. If you still need more room, you can always upgrade the silo though!
Missing important tools? The right choice of decorations is key!
You will constantly need tools in My Free Farm 2. Tools are used for expanding your farm and upgrading your buildings. And if you want to do these things, you'll need very specific tools, and not just whatever you have lying around.
You can influence the kinds of tools you get by placing different kinds of decorations. Each decoration gives you certain kinds of tools at regular intervals. You can see how high your chance of getting screwdrivers, nails, and Co. in the shop before you buy them. Soon, you shouldn't have a lack of tools!
By the way: The shop also has a tab for tools. Here, you'll be able to buy entire bundles of tools for Diamonds.