My Free Farm 2: Helping your Friends
|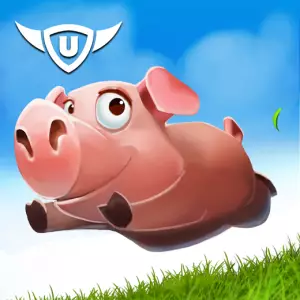 Friends make everything easier – that's not just true in life, but also in My Free Farm 2. That's why we're taking the opportunity to answer some of the most important questions about helping friends in the upjers farm app. And as always, we have some tips for you as well!
Finding Friends in My Free Farm 2
In My Free Farm 2, you can't just visit your own farm, but also the farms of your friends and neighbors. You'll find a special menu button for all things friend-related: the Friends button right in the middle. You have a couple of options for adding friends:
You can receive friend requests from other players. You will see an invitation right in the game itself – it will show up in a little window when you open the game. Simply accept it, and you'll have a friend. It's that easy!
Of course, you can also send friend requests to other players yourself. All you need is the name of their farm. Click on a free friendship slot and enter the name there. The other player will receive and be able to accept your invitation.
Tip: You can find friends using the "Suggest Friends" button after clicking on a free slot as well, or browse the rankings to find other players. Of course, you can also ask for friends on our social media sites, such as Facebook.
Help your Friends Catch Moles!
Once you've made a friend, you'll be able to help them on the day after the request was accepted. You can satisfy your curiosity by poking around, and also earn some products, coins, and friendship hearts!
On your friends' farms, you'll find mischievous moles that are burrowing around stealing crops and coins. If you manage to find all six moles in their molehills and click on the exclamation marks over their heads, you will receive half a friendship heart. The moles themselves sometimes leave behind coins and products for you as well.
Collect and Redeem Friendship Hearts
The moles in My Free Farm 2 keep coming back, so you'll have the opportunity to catch them on your friends' farms every day and collect a whole lot of friendship hearts in the process. You'll also get half a friendship heart every time one of your friends helps you. All of these hearts can be redeemed for rewards!
To redeem your friendship hearts, just click on the three cards with the ribbon in the top right corner of your screen. You will see eight cards in front of you. Each of these hides a prize, from products and coins to special items and even Diamonds. Flipping a card will cost friendship hearts; to flip one card you'll need 4 friendship hearts, to flip two, you'll need 9 friendship hearts, and to flip three, you'll need 16. If you don't have any cards left, the cards will be reset. Next time, you'll have eight new cards ready for the flipping!
Tip: Redeeming cards will consume the friendship hearts you've collected, so you should wait to redeem them until you've reached on of the reward tiers. If you have six hearts and choose to redeem your cards, two of them will be lost and you'll need to start collecting again at 0. It would be better to wait until you've collected 9 and can flip a second card!