Tips for My Free Circus: How to get VIP Tickets
|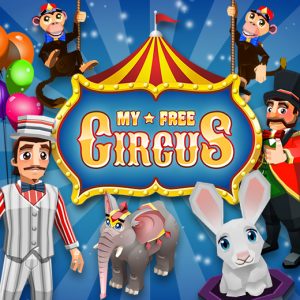 VIP Tickets are one of the two currencies in My Free Circus, the other being Coins. They are used to acquire special animals and decorations, and speed up various smaller tasks around the circus.
Unlike Coins, you cannot get them from customers or visitors, but there are still plenty of ways to get them in the game.
For our series on Tips and Tricks for My Free Circus, we've listed all ways to acquire VIP Tickets below:
1. VIP Card Shop
The first and fastest method of getting VIP Tickets is simply buying them in the Shop. You can purchase them for real money, and then immediately use them in the game.
2. Level Ups
When you level up in My Free Circus, you don't just unlock fantastic new features and content – you also get a reward. Depending on the level, you can get Coins, special items, or even VIP Tickets!
3. Friendship Cards
If you help your friends on their circus grounds, you'll be given top hats as a reward. These can be redeemed for card flips in the friendship card menu in the top right corner. You can find all sorts of fantastic prizes by flipping these cards – VIP Tickets, too!
4. Story Quests
The Ringmaster has various daunting tasks for you from time to time. You don't need to complete these to get ahead in the game, but they do offer some amazing rewards, including VIP Tickets.
5. Side Quests
The visitors coming to your circus have special hopes and dreams for the circus too. For example, some might want you to expand the circus property or feed certain animals. Of course, you'll be amply rewarded for your efforts. Some visitors might even spare a VIP Ticket or two!
6. Achievements
Stop by your caravan to check out your achievement tab – it's the tab with the golden trophy. Achievements commemorate special milestones in the game and will award you shiny medals for your achievement collection as well as monetary prizes of Coins or VIP Tickets.
7. Events
Events in My Free Circus are an incredible opportunity to earn exclusive items, tools, Coins and VIP Tickets. Be sure to keep an eye out for them!
8. Circus Shows
The sensational circus shows in the big top are what keeps the visitors coming, so it shouldn't come as a surprise that the ringmaster spends all day and night coming up with new concepts for even more bizarre and captivating shows. Putting them on within the time limit will grant you access to a special prize. Depending on the ringmaster's whims, this can include VIP Tickets as well!