THE BEST TIPS FOR MY LITTLE FARMIES PART 2: EXCHANGING CARDS
|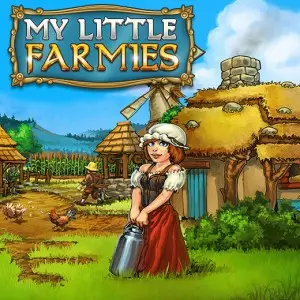 There are a lot of items to choose from in the shop of My Little Farmies, but you can not get all the buildings, plants or animals there. Many, like the wonders of the world, are only available as part of cards. In our second part of the best tips for My Little Farmies, we would like to tell you everything about the card parts.
Collect card parts
Card parts can be found in many places in the game, for example with the daily Free Boosters, with the NPCs or even if you reach a certain level. You collect them all in the map parts menu (The one with the puzzle piece in the upper right corner). If you have all the card parts of an item, you can put it together and put it in your village.
Tip: You will not receive an in-game message if you have all the pieces together. Therefore, you should check here from time to time if you can redeem some card parts. In the Map Parts menu, the maps are sorted by the levels of the items and you can also see the offers of your friends. Just click on the buttons at the top.
Exchange card parts with friends
If you want a specific item for My Little Farmies, you may not want to wait that long for all the pieces to be collected. Therefore, you have the exchange function in the game.
In the Card Pieces menu, you can see under Quotes what cards your friends are currently offering for exchange. You can also put up cards for exchange yourself.
To do this, click on a map section and select "swap" under the map on the left. Every 24 hours you get two free exchange places. Of course, you can unlock more. Just choose a place of exchange you want to use.
Tip: Even if you accept an offer from a teammate, you consume a place of exchange. So you should take a good look at how long an offer is still running before you accept it.
If you have chosen a place of exchange, you choose the part that you would like to have for it. In the process, you will always be offered equivalent parts. You can also choose cards from another tier above the ad. You can also specify that you want to exchange it for any random part.
In the next step, you can choose who you want to trade with. You can choose from certain Hanseatic members and friends or all players on your server. Now it is only necessary to confirm the offer and send it off.
For three days, your teammates will have the opportunity to accept the offer. If a player agrees to your offer, you will receive a message in the game.
Exchange card parts with all players
Basically, you can swap card parts with all players on your server. But the offers are all only from their friends. So how do you swap a card part with another player?
Usually, this happens automatically whenever you make an offer that someone else has already put online.
An example:
You would like to have a beekeeping section and offer a truffle hunter's hut section. Another player on your server is looking for a Truffle Seeker Hut section and has already uploaded the offer for a beekeeping section. As soon as both offers are online, the exchange is automatic.
Tip: In this way, you obviously can not know if someone has just set an offer that would suit yours. So that you do not miss you, it would, therefore, be best to discuss before, for example here in the forum: http://forum.de.upjers.com/viewforum.php?f=434