THE BEST TIPS FOR MY LITTLE FARMIES PART 3: EMPLOYEES
|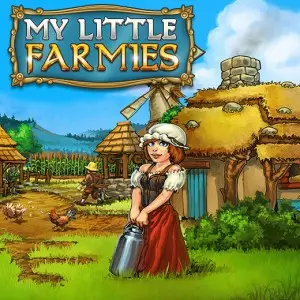 Your village continues to grow and it´s about time you get some help. You can now hire a few people for that. Here are some of the most important answers to the questions you might have about the staff in My Little Farmies and of course a few tips for you.
These tasks are carried out by the employees
You can actually use the staff in My Little Farmies everywhere. If you send them to a field, they will take over the regular watering of the plants there. If they are responsible for a gate, they care for the animals in it. You can even send them to a production facility to speed up work there.
Tip: Your employees do not have to work in one place the whole time. In between, you can send them somewhere else and use them where they are most needed.
That´s how you get employees
From level 9 you can set up the servants house and then hire employees. Here apprentices and employees are available for selection. You can use them all in your whole village. Apprentices do not demand quite so much money, but employees bring a lot of experience and are thus more effective.
If you want to hire an employee, just click on the servants' house and on the left button "Employees". In the beginning, you have 5 beds for employees. If you continue upgrading the servants' house, you can get even more employees.
Just pick an empty space and you can hire an employee or an apprentice. Now you have to assign the employee a task. Click on the small hand and set it down at his workplace in the village and he will take over his task. 
Each employee stays with you for 7 days, after which you can extend his contract or send him home.
Tip: Employees do their jobs even when you are not there. If you use it skillfully, you can also collect points if you do not have time to play.