STONIES GROW HALLOWEEN PUMPKINS
|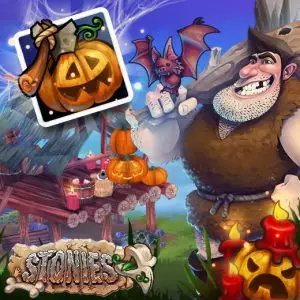 When harvesting certain crops, you might happen to come across Halloween pumpkins right now.
Collect as many as possible, because they bring you great rewards. That´s how you can earn 25 emeralds or even production and product potions.
But the biggest reward at the Stonies Halloween event is the haunted warehouse. It offers 100 additional storage spaces- which can definitely be used by your Tribe before the onset of winter.
Gather the Halloween pumpkins as follows: When harvesting mushrooms, berries, corn, pumpkins, cabbage, hazelnuts, and sugar beets, keep your eyes open for random Halloween pumpkins
Sometimes the option of doubling the number of your pumpkins appears. If you still miss some Halloween pumpkins for the next higher event level, then you have the opportunity to buy them directly in the event window.
The Stonies Halloween Event ends on 1.11.2018 at 10 am. We wish you great success in collecting the Halloween pumpkins!