upjers Info: The Most Common Questions about Discord
|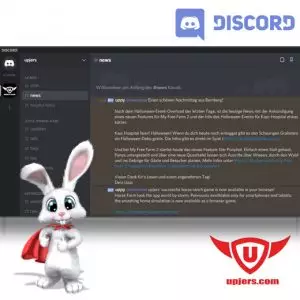 There's a new way to get in touch with other players in upjers apps now – Discord!
In case you haven't heard of this spiffy gamer app yet, we've compiled a small guide featuring the most common questions about this cool platform.
DISCORD FAQ
What is Discord?
Discord is a free speech, text, and video application that allows you to stay in touch with friends and other players in your browser, on your computer and on your mobile devices.
Discord runs on all of the most popular browsers (Internet Explorer, Chrome, Firefox, Opera) and on all modern smartphones with an iOS or Android operating system, as well as on Windows PCs and Apple computers.
Unlike other messengers, Discord was designed with online gamers in mind. Discord can be linked to a number of other services (Facebook, Steam, Battle.net and more) so that you can chat with your friends on a variety of games and platforms and make use of many cool additional features.
How do I register?
Registration couldn't be easier:
Click this link: https://discord.gg/DFk8Z7v
A new browser window will open, and you'll be asked to sign up
To sign up, you'll need to

Pick and enter a username
Answer the security question
Enter your e-mail and pick a password

Discord will then send you an e-mail to the address you entered; click on the link in the mail
You will now be forwarded to the Discord website, where you'll need to answer another security question
That's it! You now have a Discord account and can dive right in!
Join the upjers chat server:
On the left side, you'll see a number of circles – one of them will gave the upjers logo
Click on the upjers logo. You'll see a list of chat servers for various games of ours
Select a game and click or tap on your desired chat channel to join
Chat away!
TECHNICAL BACKGROUND/PRIVACY
What will happen with my data?
To use Discord across various apps and devices, you'll need a Discord user account. Aside from your e-mail address and a password to log in, this doesn't require any personal data. The information you entered will only be used to recognize you next time you log in.
Chat contents (text and images) will be saved, so that messages to your friends aren't lost and you can read up on chats you missed (for example from the previous night).
Connection info from voice and video chats (ie. who talked to whom and for how long?) are saved, but the contents of these chats aren't archived. You cannot replay video and voice chats in any way.
If you would like to learn more, take a glance at Discord's privacy policy or check out this blog post.
You can request a copy of your data by using an option inside Discord's settings. You will receive a link which allows you to download all of your data.
upjers doesn't collect or save any data from Discord servers!
Support Contacts
If you still have questions about the upjers Discord channels, please contact our support here (select "Portal" as the game).
For technical support regarding Discord software and services, check out Discord's help center.