Horse Farm – Racing for Platinum
|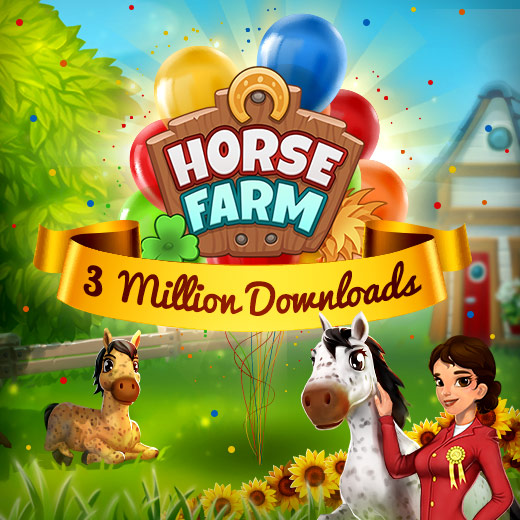 Fantastic news for upjers! Our pony farm simulation app Horse Farm reached a record breaking three million downloads across all app stores!
Right from the start two years ago, we quickly realized that games about managing your own pony farm would be a thrilling topic for our community and many other gamers as well: download numbers were climbing rapidly!
Horse Farm was created in cooperation with Independent Arts Software in Hamm, Germany. Asking our friends for their reaction on the big success of their game, lead game designer Hannah responded.
How did you come up with the idea for the game?
Hannah: "When we were talking about the next game we wanted to make, we realized that we liked the idea of building some sort of rich, extensive pony riding resort like we would love to visit ourselves. At that time there simply was no horse-themed game doing exactly that.
Taking care of your horses is so rewarding. So we took great care to display that part of the game. But, as we know, there is much more to running a resort like this – plus there are so many other challenges and tasks… something like this was not done before."
What is so special about Horse Farm?
Hannah: "As mentioned above, we think that it is the unique combination of building a loving relationship towards your (virtual) horses and, at the same time, having to face the challenging day-to-day business of managing your own farm.
Not wanting to leave it there, we also want the players to create their own, individual farm. We give players a wide range of options as to decorate the farm and its buildings as they like. Also they can use the rearing feature enabling them to decide which horse breed they want to have on their farm. Essentially giving them the freedom to realize their fantasy horse resort."
What are your future plans for the game?
Hannah: "The upcoming events will add completely different and new horse breeds, as well as decorations for your farm. Also we are already working on ways to present the game in new ways to our existing and future players. However… at the moment I must not give away more, as that would spoil the surprise, once it is ready fore release."
Thank you Hannah for your time. We will of course, keep you, our players, in the loop about what's coming up for Horse Farm.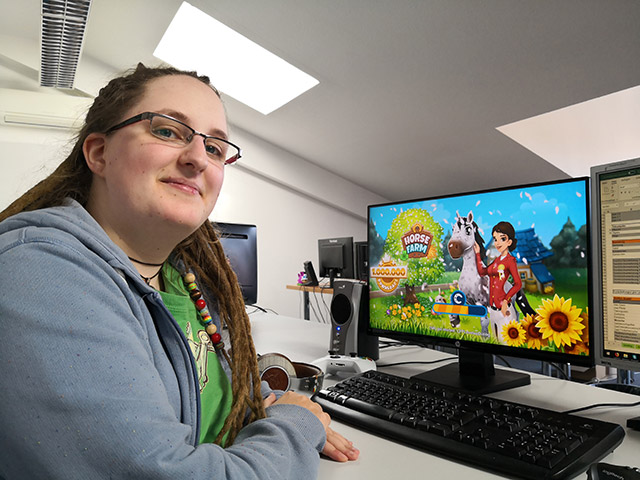 What is Horse Farm about?
In Horse Farm, you run your very own virtual pony yard. Your task is to create stables for your horses and rooms for your guests. That way you create an attractive pony resort for your guests. Also you can do the following:
Breed horses and prepare them for tournaments
Build restaurants and shops for riding equipment to cater to your guests
Visit neighboring friends and collect hearts
Decorate your horse farm and upgrade buildings
Participate in Horse Farm events and win valuable prizes