Coins, Diamonds and Tickets – all you need to know about the currencies of Zoo 2: Animal Park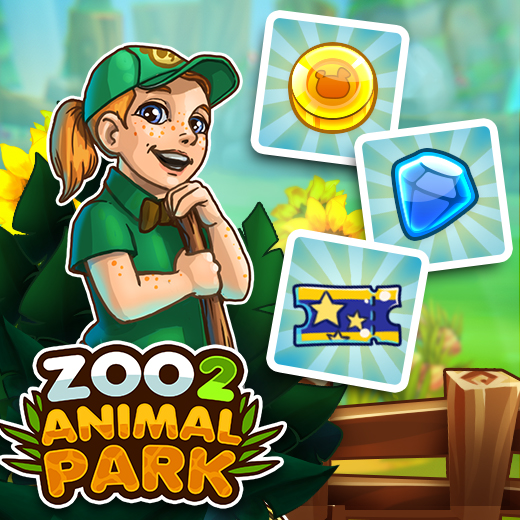 There are several currencies in Zoo 2: Animal Park you can earn or collect. The basic currency are Coins. You will get them from:
Visitors, paying at the main gate and purchasing goods from shops
Quest rewards
Daily log-in bonuses
Spinning the wheel of fortune
Another way, should you run out of coins, is by exchanging diamonds for coins. As diamonds are harder to get, you should consider well if you want to try this option.

upjers tip: Should you really need a few coins, you may want to think about selling decorations – either zoo decoration or enclosure decorations – you no longer need. The selling price will be lower than the purchase price, however.
Premium currency for Zoo 2: Animal Park
Diamonds are Zoo 2's premium currency. But you can still earn diamonds in the game. Once in a while you even get free diamonds. Of course, you can buy them as well or get them from the following sources:
The daily login calendar: on day 7, 12, 19 and 24 you will receive a diamond.
Logging in 25 times during one calendar month, you receive another diamond on top.
Leveling up grants a number of diamonds depending on the newly reached level
Several quests reward Zoo 2: Animal Park diamonds, too.
Finally, you can use the in-game advertising-board next to the main gate. There you will get one diamond for every 10 video ads, you watch.

upjers tip: There are more ways to earn premium currency without spending any money: You can subscribe to upjers news on Telegram (add t.me/UppyBot to your contacts) or give us a thumbs-up on Discord (check the #news channel!). And there are even more – check out our blog article for details.
Special Currencies: Tickets and more
Tickets are a special currency indeed. As you know, to get items in Zoo 2: Animal Park, you can collect card pieces. For a certain number of such pieces you can get even the rarest of animals without the need for diamonds. Tickets can be used as substitute for any missing card piece.
You may, for example, already have six of eight card pieces for a very rare premium animal. You can now use your tickets when exchanging the card pieces and get the animal you want.
Tickets can be used for all items and animals. Here's where you can get Zoo 2: Animal Park tickets:

From the daily login calendar on day 11 and 17
By swapping any card piece you no longer need for tickets
During special events in the game, there are so-called event currencies. Especially during holiday seasons (e.g. Easter, Christmas or Valentine's Day) you find special decoration objects in the game.
Once you place them, you can harvest these decorations at certain intervals for their special currency (like "Easter eggs", "snow flakes" or "hearts").
You can use this to get event-themed rewards (decorations, animals, etc.) from the event shop.