Flash Shutdown: Everything Stays Different
|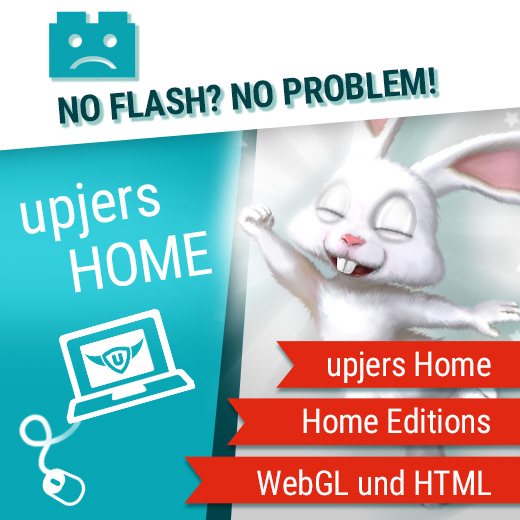 You've probably already heard: At the end of the year, Adobe will be discontinuing support for Flash technology.
That also has some consequences for upjers games: We will be shutting down the Flash versions of some browser games on December 1st, 2020.
How does the end of Flash affect you? That's what we'll be covering in this blog post!
The most important bit first: All upjers games will remain playable. Most of them even in the comfort of your browser still – just as they have always been. You probably won't even notice the end of Flash much – if at all.
NOTHING CHANGES HERE
The following games are unaffected and can still be played in your favorite browser (Chrome, Firefox, Safari, Edge, etc.):
Dark Gnome
Horse Farm
Kapi Hospital
Zoo 2: Animal Park
My Free Farm
My Free Farm 2
My Free Zoo
Molehill Empire
My Little Farmies
Rail World
Stonies
These games are based either on the modern WebGL technology or traditional HTML, and won't be affected by the end of Flash. My Little Farmies and My Free Zoo were converted completely to WebGL in the past few months. The only thing that will change in these two games is that you will no longer be able to switch back to the old Flash version.
UPJERS HOME – YOUR GAME CENTER FOR ALL UPJERS TITLES
But how about the other games like My Sunny Resort, Uptasia, and Wauies?
These games will now be exclusively available in upjers Home. It's our very own platform, on which you can play all of our browser game in our very own "browser." The download is free, of course. All you need is an upjers Portal account and you can dive right in!

The user interface is identical to the upjers website, so you should have no trouble finding your way around. Once logged in, you can simply select your game and start playing. And again: you can play ALL upjers browser games here. So you can also play My Free Farm, My Little Farmies, and Zoo 2: Animal Park in upjers Home!
FASTER, BETTER, HOME EDITION
Additionally, we've created special Home Editions of some games. These are downloaded versions that can be installed on your PC. They will run faster and more reliably, so if you have performance problems with a browser game, we recommend trying out the Home Edition. The following games already have a Home Edition (downloadable version) available:
Battle of Beasts
My Free Zoo
My Little Farmies
My Sunny Resort
Stonies
Undermaster
Uptasia
Wauies – The Pet Shop Game
If you play any of our games on Steam, nothing will change for you. Our Steam games are not at all affected by the end of Flash.
All summed up: The Flash versions of our browser games will be shut down on December 1st, because the technology is no longer supported by its makers. All upjers games will remain playable though.
So if you want to be prepared, be sure to download upjers Home now and create an upjers Portal account if you don't have one yet. That way you'll be on the safe side and can continue playing without a hitch!