First Place for the upjers Edelgasinator (Noble Gasinator)
|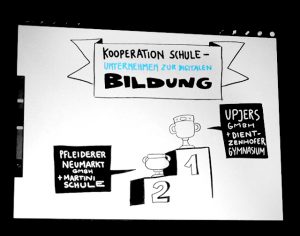 We're going to Berlin! Our apprentices were thrilled to have been invited to the SCHULEWIRTSCHAFT-PREIS (School-Business Prize).
Together with chemistry teacher Florian Mai from the Dientzenhofer-Gymnasium in Bamberg, they developed a teaching program for chemistry class some time ago.
The "Edelgasinator" (Noble Gasinator) was so successful that it is now used in various schools, where it helps students with ion equations.
The SCHULEWIRTSCHAFT prize recognizes projects like these, where schools and businesses work together.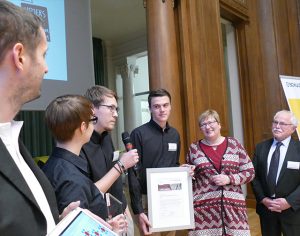 Our chemistry program won first place in the "Digital Education" category! Of course, we're incredibly proud of our apprentices, and they're more motivated than ever to further get involved in "learning by playing".
We already have a new chemistry-related topic that could be visualized nicely in an educational app. Keep an eye out for news in the future!