Gardening Fun in Uptasia
|
Snow and rai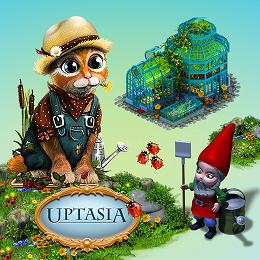 n are finally giving way to sunshine and warm weather. Now that their fingers are no longer freezing and the breeze is pleasantly warm, the Uptasians have cleaned out their sheds and are starting into the gardening season full of enthusiasm.
The new Magic Tower event, "Garden Festival" will provide you with some gardening basics to brighten up your village. Earn fantastic spring-themed decorations for your town!
From now until Monday, each successfully solved hidden object game will grant you collection currency in Uptasia: This time around it's ladybugs.
500 of the spotted bugs will grant you a Magic Crystal, and four Garden Gnomes. These are sure to give your town an idyllic garden feel.
Once you've collected 3,000 ladybugs, you will receive 3 Magic Crystals and a Butterfly Meadow. It will grant you 200 decoration points when placed.
The final hurdle is set at 10,000 ladybugs. Reaching it will be rewarded with 6 Magic Crystals and a Greenhouse! This ultimate gardening decoration grants 700 decoration points and is a must-have for all garden fans in Uptasia!
So head on over and join the "Garden Festival" in Uptasia!