NEW MINI WORLD IN MY FREE ZOO!
|
You can now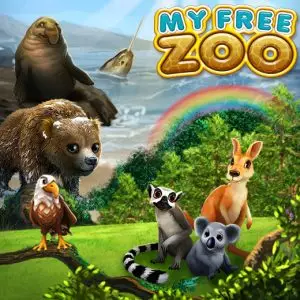 build a mini-zoo for your friends.
It is created as a friend zoo in your account.
The benefits: If you have a particularly large zoo that loads for a long time to open, you can make the friend visits for your teammates more enjoyable.
In addition, you get a whole star for visits to the Friends Zoo – this also applies to your friends, who fulfil the tasks there. If you have 18 visits a day at your Friends Zoo, you will receive a Gold booster part. Seven parts can be assembled to a gold booster.
This is how the Friends Zoo works in My Free Zoo
First of all, you need the "Zoological Society" in My Free Zoo. Then you need to fulfil four tasks.
Build your main zoo to level 16.
Second: collect 250 friends stars
Third: have at least 15 friends
Fourth: have at least 100 different species in your zoo
At last, you can unlock the Friends Zoo as a new region for 25 million zoo dollars or 150 diamonds.
Important note: In order for you and your teammates to receive an entire star for the friend visit, they must also visit you in the new region.
There are three new buttons in the friend interface.

1. Visit the main zoo 2. Visit Friend Zoo 3. Finish all tasks
The first one brings you to the main zoo, the second to the Friends zoo and the third one to complete all your friends´ tasks. If your friends also have a mini Zoo, the tasks are automatically fulfilled there.
How can I design my Friends Zoo?
The Friends Zoo is basically a new region. There you can set up almost anything that is possible in My Free Zoo: enclosures with animals, decorative items, aquariums and terrariums.
Not all special buildings are possible: The transport station, the breeding station, the administration building and the buildings in which other enclosures or stands have already been placed. This includes shopping malls, the depots, the toilet houses and Amazon houses.
As usual, you can expand the Friends Zoo and thus create even more space for animals and decoration. The zoo staff can also do their work in the new region – Just tell them while hiring them.
Enjoy the new friends zoo in My Free Zoo!