How can I get Premium Currency for Upjers Games without spending money? – Part 1
|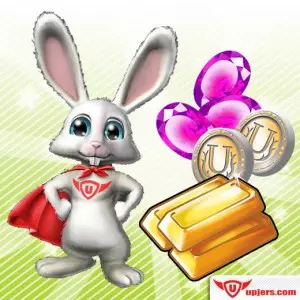 The upjers Portal has several options for obtaining premium currency for our games without spending money, so that anyone can enjoy everything our games have to offer.
In the first installment of this three-part blog series, we'll be explaining how to earn upjers points. You'll find links to the other parts here:
Earning upjers points and redeeming them for premium currency
Collect upjers Points and Redeem them for Premium Currency
To get started, you'll need an upjers Portal Account (https://en.upjers.com/). For most of our games, a Portal Account will automatically be created as soon as you register for a game such as My Little Farmies or My Sunny Resort. You'll be able to log in with the same information you used to sign up for those. If you don't have one yet, you can easily create a new Portal account – all you need to provide is an e-mail address and a password! Make sure to check if you have an account though before you try to create a new one.
Once you have logged in, you'll see your Portal name and ID underneath our logo in the top left corner. Next to it, you'll see a shiny coin right next to it. If it's blinking, that means you can pick up your first upjers points.
Just click on the upers Coin, and you'll see a choice of four boxes, each with a colorful question mark. Pick one and click on it. You'll receive a random amount of upjers points. So every day, ou can earn either one, three or five upjers points. Log in every day to play one of these "scratchcards."
You can also earn upjers points by completing certain achievements in our games. You can see which ones in the Portal overview of each game. For example, if you earn the achievement "Animal Care Expert" in My Free Zoo, you'll receive 10 upjers points. The same is true for all other achievements listed in the Portal. If you're logged in, you can check your achievements here: https://en.upjers.com/achievements
Once you've collected at least 200 upjers points, you'll be able to redeem these for premium currency in a game of your choice. You'll be able to turn in your upjers points for any game in your Portal Account (with a few exceptions – see below!). Please make sure to select the correct server in the game you want to redeem your points in. Generally, you will receive 2 units of premium currency (so 2 Diamonds, 2 Shells, 2 Gold Bars, etc.) for your game.
Note: There are some upjers games in which you can't redeem your points. These include games such as My Free Farm and Kapi Regnum, where Coins can be bought and sold at the market.
If you use upjers Playground, the specialized player for our games, you can earn even more upjers points. When you collect upjers points through upjers Playground for the first time, you'll get a whopping 500 free upjers points on top. But that's not all – you'll also get twice the usual amount of daily points!