Zoo 2: Animal Park – What happens at Level up?
|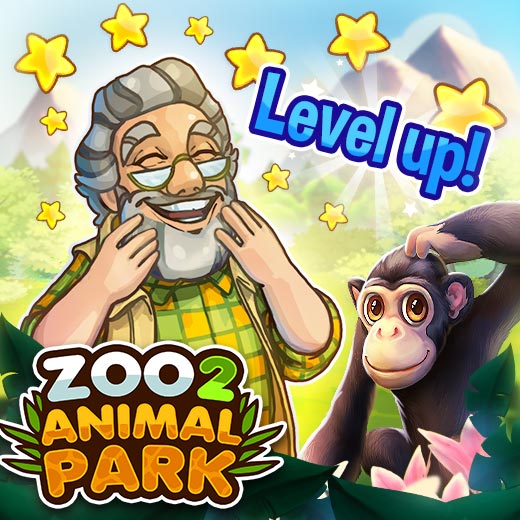 To successfully run a zoo, it needs quite a bit of organizing your work: your animals want attention, paths need cleaning and plants watering. All these tasks will not only reward you with well cared-for animals and a clean zoo that attracts visitors but also yield experience points.
But it's not just you, the director, deepening your knowledge of how to run a proper zoo. You will also, by reaching certain milestones with your zoo, unlock special rewards with every level-up in Zoo 2: Animal Park.
Ranging from card pieces for enclosures, decoration and other accessories, you also get new animals, chests, coins and diamonds!
To give you an overview on the different rewards you can earn, we put together the following list. With more than 100 possible level-ups, the complete list would be very long, but here are the highlights:
Every level-up, you will get diamonds

on every 5th level (level 5, 15, 25…) you get 5 diamonds
on every 10th level you get the number of your level as amount of diamonds. So on level 10 you get 10 diamonds, on level 20 you get 20 diamonds, and so on.

On those "tenner levels" you also get a rare chest with your rewards. While on level 5, 15, etc. you get a normal chest.
Starting at level 6, friends of your zoo, like Stella, the photographer, Mr. Grump, or Dr. Bird, start bringing in new animals. They will ask you to look after new animals every 3 to 4 levels. Some examples:

At level 6 you get your first new pig
At level 9 a giant tortoise
On reaching Level 12, you get a sheep
From level 16 on you may take care of a kangaroo
So you can see that for your patience and endurance tending to your animals, you are generously rewarded in Zoo 2: Animal Park.